Sacred Heart Greenwich Faculty Blog
It's quick and easy to implement, and has proven benefits including boosted working memory and reduced stress.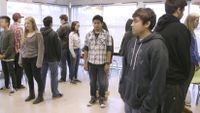 © Edutopia
Mindfulness is something I incorporate into each of my classes once a week, and it only takes four to seven minutes. After reviewing the benefits of mindfulness practices—like reduced stress, boosted working memory, and lowered emotional reactivity—it was no longer a nice-to-have, but rather a necessity.
Grades 9-12 | Redwood City, CA
Enrollment
388 | Charter, Suburban
Per Pupil Expenditures
$8,917 School • $9,658 District
Free / Reduced Lunch
47%
DEMOGRAPHICS:
60% Hispanic
25% White
6% Asian
3% Multiracial
2% Black
2% Filipino
1% Pacific Islander
Data is from the 2014-2015 academic year.
OPENING A MINDFULNESS ACTIVITY
At the beginning of each weekly session, I welcome everyone into a circle. We leave an empty chair for those who are unable to join us that day. We put our feet flat on the…
View original post 843 more words